LAMPS FOR KITCHEN
Tips for the lighting of the kitchen

To make household chores more comfortable, prevent accidents, and allow the necessary cleaning work, the lighting of the kitchen should feature specific characteristics:

- illumination level: 300 lux average horizontal light evenly distributed across the room, and about 300 lux on the working tops and cooker;
- lamps with warm hues and perfect colour rendering;
- appliances equipped with sufficient protection, as well as easy to clean;
- absence of glare, especially on working areas and on cooker;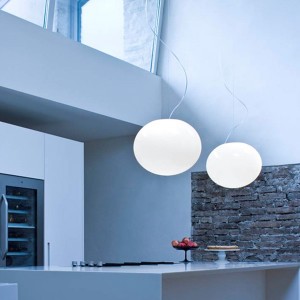 These requirements can be met by using fluorescent lamps with a 12W/m2 output for general diffused illumination.
If the room has large windows, the modules should be aligned with the windows. 

Focused illumination on the working tops and cooker should be provided by recessed or semi-recessed adjustable spotlights fixed to the ceiling, or possibly under the hanging cabinets, best using LED sources.
Suspension lamps hanging above the table can be used for the dining area.


Wall Lamps | Ceiling Lamps | Suspension Lamps | Led Lamps | Reccesed Lamps