LAMP FOR LIVING ROOM
Tips for the lighting of the living room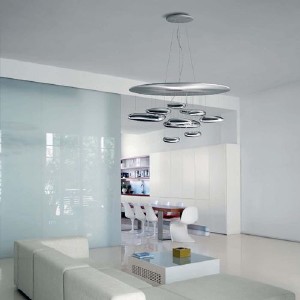 Living room
This room is the most representative one in the home. It is where family and guests meet, converse, play games, watch television, and listen to music. It therefore serves many different purposes, and should allow to meet a variety of visual requirements simultaneously. It is important to note that while adequate illumination criteria should be followed to illuminate the different activities, the overall result should nevertheless be cosy and appealing. In addition to general illumination, with an average of 100-200 lux, obtained with recessed wide-angle spotlights, if there is a lowered ceiling, or with fluorescent wall lamps, individual areas can be enhanced with a suspension appliance above the dining table, or with floor lamps near the conversation area.
Adjustable floor lamps can be arranged in the play area, while table lamps can be placed on sideboards and coffee tables.
In the reading corner, a lamp with a spot source, perhaps with LEDs, can be placed vertically above the reader. The living room's lighting system near the TV area should be adjustable, and the wall behind the screen should be lightened with wall washer appliances or with the diffused light of a dim table lamp, to soften the contrast between the background and the screen and allow more comfortable viewing.


Dining room
This room should be bright but free from glare, with an appealing and warm atmosphere created by a harmonious distribution of light without excessive or glaring contrasts.
The table is the main element, and should be lit with 100-150 lux. A suspended lamp can be used, fitted at least 2.2 metres from the floor, matching the interior style and the colour of the furniture.
Appliances with warm hues and perfect colour rendering, perhaps including energy-saving halogen lamps, should be considered.
The walls can be decorated with wall fixtures to match the suspension lamp.
Table Lamp | Floor Lamp | Wall Lamp | Ceiling Lamp | Suspension Lamp