DIFFERENT TYPES OF APPLIANCES

Appliances can be distinguished, in the first place, on the basis of their fitting style: ceiling, suspension, wall, floor, table, recessed, fixed to track, or special emergency solutions.


FLOOR LIGHTS
Floor lights are the easiest solution to illuminate any room. They can be placed a few metres away from the power socket, except for the discomfort produced by the exposed cable. They are easy to move around, thus ensuring flexible illumination. Their positioning requires special care (to prevent knocks and ensure a safe distance from inflammable objects).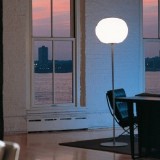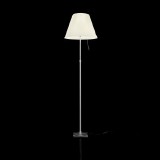 WALL LIGHTS
The main feature of lights fixed to vertical walls is that they provide diffused illumination in the room. Their light softens any shadows produced by ceiling or suspension lamps. Wall lamps can be essential to illuminate vertical surfaces, such as the walls of the room, bookcases, or paintings. Much of the lighting image of a room is often due to the use of this kind of appliances. Their luminous effects on the walls are also used for decorative purposes; however, as wall lamps require masonry work to lay the electric cables, their final position needs to be chosen carefully.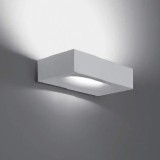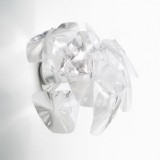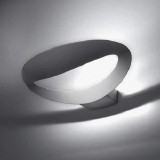 TABLE LIGHTS
The lamp par excellence is optimal for all work done within a limited area. Combined with appropriate diffused general illumination, it is the ideal source for writing, drawing, and reading, particularly when the book is placed on a table.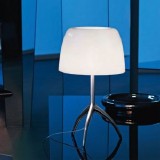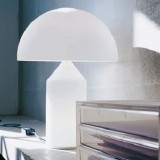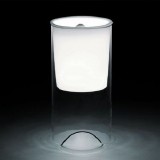 CEILING LIGHTS
Ceiling lights are fixed directly to the ceiling; therefore the maximum range of their light emission is 180 degrees. They require appropriate concealed electric cables, which may imply masonry work, except in cellars or store-rooms, where the ducts can be visible.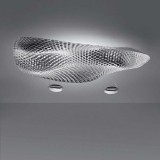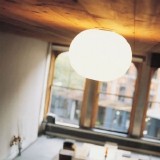 SUSPENSION LIGHTS
Lights hanging on the ceiling with wires or rigid shafts offer a broad variety of solutions. Being suspended, they provide diffused light.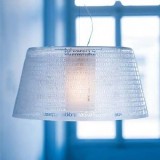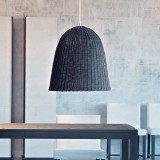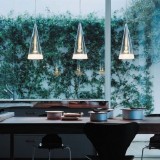 RECESSED FITTINGS
False ceilings are often installed in residential interiors to lower the height and conceal cables and ducts of multiple light sources. Recessed lights are simple and, as such, cheap. However when choosing this type of lamp one must consider the material of the false ceiling and the energy that can be absorbed. Recessed lights can also be wall mounted; in this case they are ideal to create scenic lighting effects.